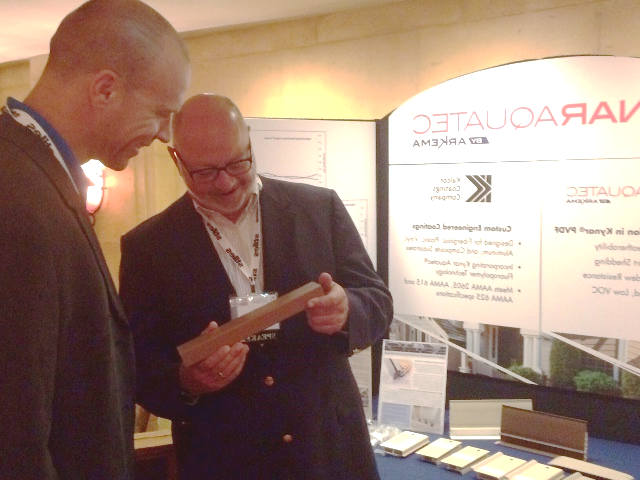 Above: Seeing is believing... Kalcor exhibited samples coated with the new waterborne Kynar® based coatings.

Above: Skip Gregorevich presents technical details about fluoropolymer coatings for aluminum, vinyl, fiberglass, and plastic windows and doors.
Kalcor Coatings teamed up with Arkema Inc. to provide attendees of the Window and Door Manufacturers (WDMA) Technical & Manufacturing Conference with information about the latest coating technology. "Waterborne fluoropolymer technology provides excellent duability and weathering in a wide range of colorful, decorative finishes," says Skip Gregorevich, Kalcor's architectural products manager. "Kalcor's Kalgard® coatings incorporate proven Kynar® performance in a new package well suited to materials like aluminum, vinyl, fiberglass, composites and plastics." adds Vincent Casmirri, Marketing Manager for Arkema.
Kalcor formulates engineered coatings for outdoor products such as roofs, siding, windows, doors, railings, molding, trim, and other components that need to look great even after constant and prolonged exposure to harsh elements.
For a copy of the Kalcor/Arkema WDMA presentation, "Beyond Beauty & Brawn: Value Added Coatings for Windows and Doors," please contact Skip Gregorevich at PaintGuySkip@aol.com